Looking for GreenWorks Twin Force Cordless Lawn Mower Reviews? Let's face it, choosing the right gadgets for work that you do around your home may take a little research before you invest. Since one of the main goals is to simplify and make your life easy, you should always make informed buying decisions. This is especially the case when you are buying a good lawnmower to keep your lawn groomed properly.
That said, for those of you who are looking for the best push mowers in the industry, you may want to consider the GreenWorks twin force Cordless lawnmowers and their reviews. This GreenWorks lawn mower review will give you a summary of its features, specifications, the pros, and cons of using it. You can also use this information as a final view of why this product can easily suit your needs.
GreenWorks Twin Force 25302 Lawn Mower Reviews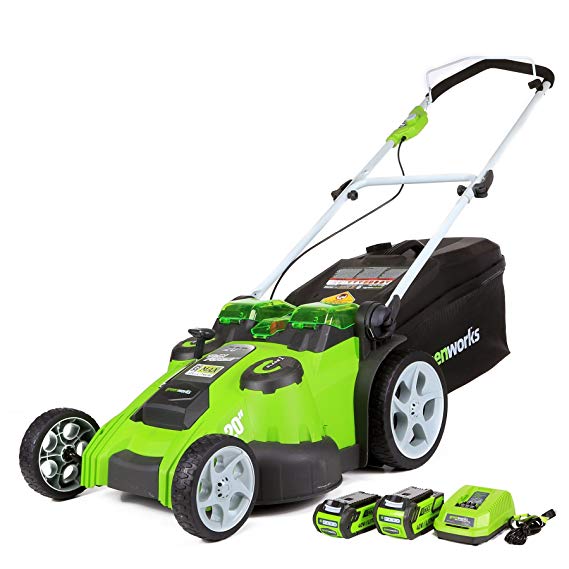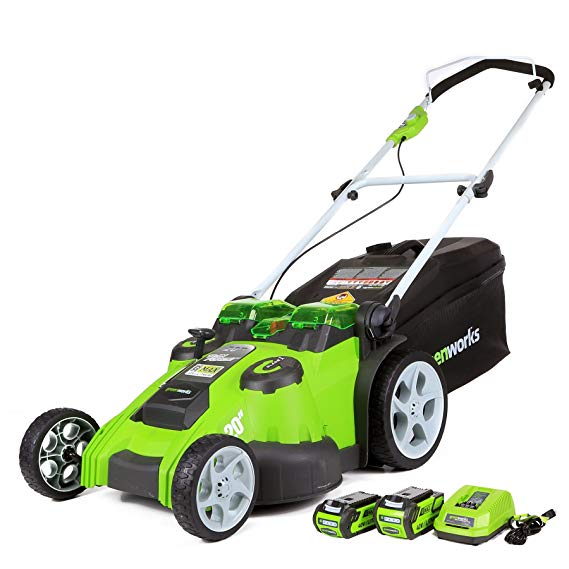 Manufacturers of the Greenworks Twin Force Lawn push mower designed this product to take advantage of 2 innovative features. The first allows the user to cut the lawn without gas fuel. Instead, the user can cut their lawns with an electric push mower.
Additionally, when the manufacturers designed this product, they could give the consumer an added benefit of a double blade. The double blade feature is great for using more power with twin force via a twin blade technology.
Features of greenworks Twin Force 25302
G-max 40V Li-Ion battery system.
This battery has been made specifically to replace the need for gas fuel power. It gives the user of your lawn mowers the capability to provide power for more than one tool simultaneously. Users will enjoy these and other similar features because of its complete yard work system that allows them to perform multiple tasks in one grass cutting setting.
20-inch cutting deck.
This cutting deck provides each user with enough space for maximum maneuverability. Users of this lawnmower like this feature because of its overall cutting capacity.
smart cut technology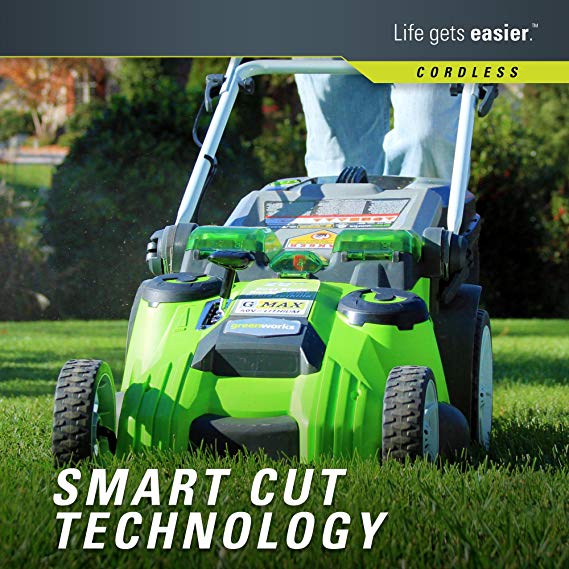 Innovative smart cut technology incorporated in its design. Therefore, the user can use this feature to accommodate the grass's thickness since it varies from one part of the property to another. This smart feature is also used to adjust both the runtime and the power based on your grass's thickness. Additionally, with the use of newer technology, a lot more power is put out when it is needed most.
Dual blades Design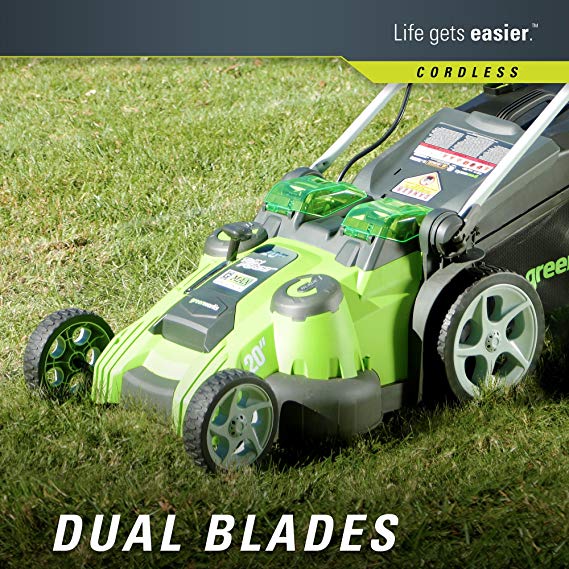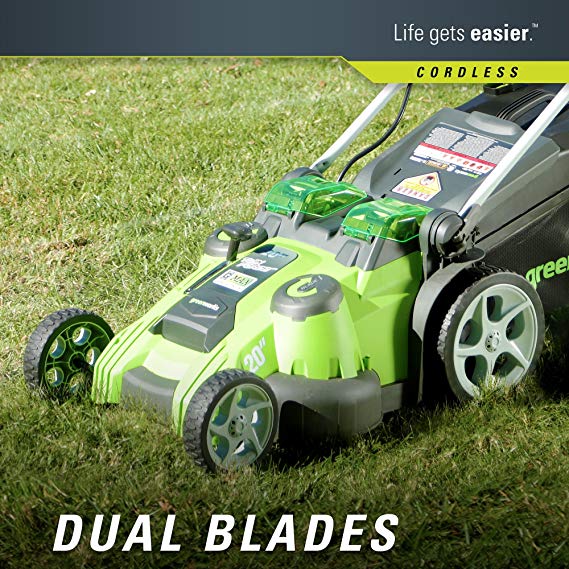 Dual blades design for flexible and even cutting. Lawn push mower users can have access to much better cut quality. The dual blade is designed to equip all of its users with a superior mulching and bagging capability.
Position Optimize
5 Position single Lever adjuster for the height. A single lever adjuster gives the user the capability to change the height to suit the grass level. The height adjustment can cut grass from 1 inch to 3 3/8.
Specifications of GreenWorks Twin Force Lawn push Mower
Model: 25302
Power source: Battery
Cutting Blade: dual
Battery Port: Dual
Cutting Height: 1-3/4 inches to 3-3/8 inches
Runtime: up to 60 minutes
weight: 42.5 lbs
Start Type: Push Button
Cutting Path: 20 Inch
Noise Control: Yes
Charger: Yes
Why we like this lawn mower?
There are many reasons why homeowners like this lawnmower. Some of the most commonly known include the high quality of its cut; this mower is super lightweight, so it is easy to carry around, much quieter than your vacuum cleaner, no gas needed to run, and charging the battery is done quickly. There is no need for oil maintenance. In an uninterrupted cutting (Dual battery port technology), one battery storage is used while the other provides power.
Who is it Suitable For?
This lawnmower is suitable for homeowners who want the added convenience of eliminating the need for expensive gas fuel. Those users also want to make sure that they have a clean superior cut with a dual blade solution. It is also considered a one-stop solution that provides each user with accessories for a comprehensive job.
Pros and Cons of GreenWorks Twin Force LawnMower
Like any other product on the market today, GreenWorks twin force lawn mower review has both pros and cons.
Pros
Dual Blade System that gives a clean cut.
No Gas Required
Charges up very quickly
Powerful enough to handle thick grass with a clean cut
Adjustable features that can be changed according to height
Cons
Most users say that this lawn push mower is normally designed for small to midsize lawns instead of a huge amount of property.
Verdict
This battery-operated lawn push mower is an alternative to using gasoline. With twin blade action for thick grass and doubled battery long-lasting operation, it has many useful properties.
FAQ
1. Question: Has this push mower been designed to be self propelled?
Answer: No, but it's still lite and very easy to use.
2. Question: Does this push mower give you the capability to cut the lawn without a rear bag or a mulch attachment?
Answer: Yes, you do have a certain amount of flexibility that allows you to choose between both options.
3. Question: What type of warranty does the manufacturer include on the mower and the battery.
Answer: Manufacturers have a 4-year warranty on the mower and a 2-year warranty on the batteries.
4. Question: Is there an indicator that indicates when the battery is running low or when it has been completely depleted?
Answer: Yes, the manufacturer has included a red light that provides the user with this information, i.e., red light is the indicator that says when the battery is still running. However, it does not have an indicator that signals when the battery level is depleted.
5. Question: According to GreenWorks twin force lawn push mower reviews, will these functions work on high grass that range in height as much as 3 inches.
Answer: Yes, this lawn push mower can handle this height and thick grass, too, by his height adjustment feature.
Final Verdict
Put a conclusion mentioning the overall product quality of the contents and tell the readers to choose their best product according to the purpose, budget, and design. Convince people that each of the top 1o contents is somehow special. Mention that the problem you mentioned in the introduction can be solved with any of the above-mentioned products. Put an attractive ending sentence.